The Battle of Bramall Lane
October 2004
19 years, 1 month ago
The Guardian newspaper website used to run a weekly, tongue-in-cheek, Photoshop competition in their football section, The Gallery.
Way back in 2004, the subject of the competition one time was Neil Warnock, the then-manager of my beloved football team, Sheffield United. I didn't win (booo!) but I'm still rather proud of my entry.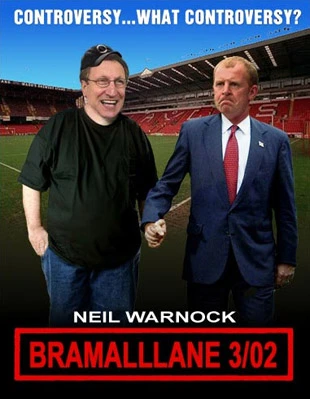 My competition entry
It hopefully goes without saying that my effort was a parody of the Fahrenheit 9/11 film poster (below). The controversy it references is the infamous Battle of Bramall Lane football match in March 2002. I've replaced Michael Moore with Our Neil, and George W. Bush is represented by the ever-chirpy Gary Megson, formerly the manager of our opponents that fateful day, West Brom.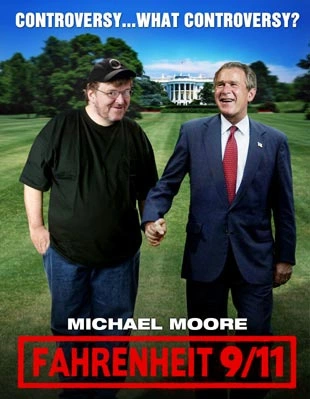 The original movie poster
The heads of the two men (oversized, for comedic effect) were cut from other photos I found online. The trickiest part was to alter the skin colours sufficiently to fit in with the poster without losing detail or contrast. The last step was to cut out the two new characters and position them over the new background and apply the dark fade to keep in style with the original poster.
With hindsight, I would have liked to have paid more attention to Neil's neck (the guy on the left), matched the fonts and removed the flags from the top of the stand, but there was only so much time I could dedicate to such a fun yet meaningless exercise.
Relive the action, watch the highlights on Youtube!